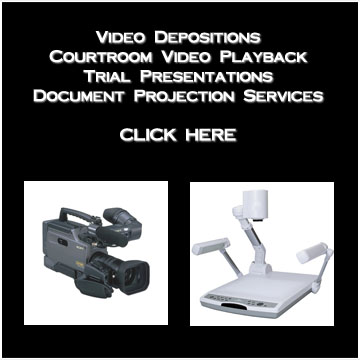 VIP Studios video production services division serves the corporate community and legal firms.
Legal Video Services in areas of Legal Video Depositions, Trial Presentation, Courtroom Video Playback, A Day In A Life and Video Production Services.
Please ask to have all your Video Depositions synchronized to the Transcript when you want the transcript testimony visible during video playback.

Corporate Video Services details company profile, product display, sales/marketing videos, training videos, safety videos and more.
We are a multimedia firm ready to meet and exceed all your expectations. Call today for more information.
Video transfer services for VHS tapes, VHS-C tapes, 8mm video tapes and DVD Duplications.
All transfer work is done in house with a fast turn around!
We also specialize in Photos to Video with Music for that special event, birthday, anniversary and more!


Call: 203.754.7689
OFFICE HOURS:
Monday through Friday
9:00 a.m. to 5:00 p.m.

Evening Hours during the week for Appointments Only:
6:30 p.m. to 8:00 p.m.

Saturday Office Hours:
10:00 a.m. to 4:00 p.m.

Closed on Sundays

Directions to our studio - Please call
Copyright (c) 2023 VIP Studios